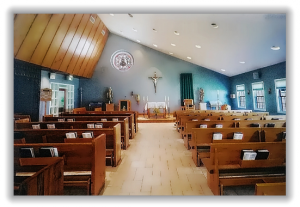 St. Regina is a Catholic Church located in Parsons, Tennessee. We are part of the Catholic Diocese of Memphis, Tennessee.
We hope you will look around and learn more about us – and please stop by and visit if you're in the area.
Announcements
Father Anthony will have Mass at the regular time at St Regina at 11:00am on May 16th. Volunteers are needed to clean the church and the bathrooms after each Mass. Please let the church office know if you are available to help. We will need someone at each Mass to direct the people into the sanctuary instead of congregating in the Narthex and to make sure they are wearing masks. There will be no passing of the offering baskets. Instead, there will be one basket on a table as you come into the sanctuary. At the end of Mass, the back pews will leave first so that there is no congestion in the sanctuary or in the Narthex. I know this is not the ideal solution, but we must adhere to the CDC, Catholic Mutual (our insurance company), and the Diocesan standards we are to have public Mass and keep our parishioners safe.
IMPORTANT ANNOUNCEMENTS from Bishop Talley
Decree Lifting Suspension of Public Mass

St. Regina Catholic Church
108 Skyline Lane
Parsons, TN 38363
Telephone: 731-847-2054

–